Asiantaeth Nyrs Deintyddol Cymru
Llenwi'ch bylchau staff yng Nghymru
Asiantaeth Nyrs Deintyddol Cymru
Mae gennym ni nyrsys deintyddol locwm a derbynyddion deintyddol ar draws Cymru gyfan i'ch cynorthwyo chi i gael staff, fel a pan fydd ei angen. Gallwch naill ai archebu ymlaen llaw neu ar y diwrnod. Mae gennym rif ffôn pwrpasol i archebu  02921 670619, a atebir rhwng 6.45am a 9.30pm bob dydd o'r wythnos.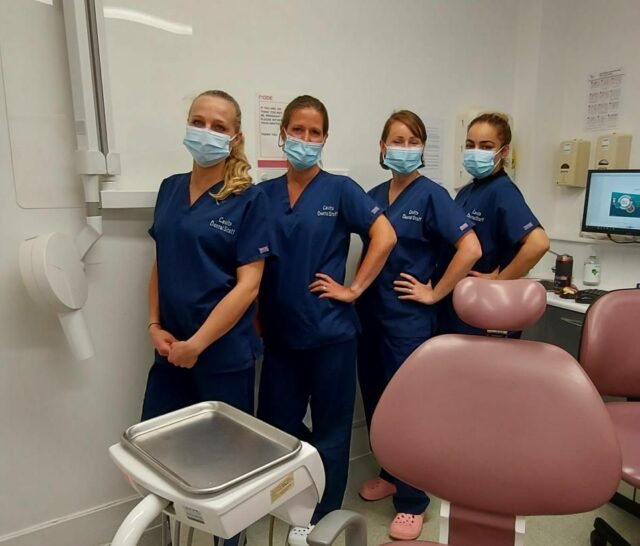 Y manteision i ddefnyddio Cavity ar gyfer eich anghenion staffio yw:
• Mae ein holl staff yn cydymffurfio â GDC a LHB, a byddwn yn rhoi dogfennau i chi am hyn ar gyfer cofnodion eich practis.
• Mae gennym staff lleol ledled Cymru.
• Nid oes costau cudd ar gyfer teithio, nosweithiau neu ddydd Sadwrn, – dim ond un ffi fflat fydd gennych chi.
• Mae ein holl weithwyr o safon uchel eithriadol fel y gallwn roi gwasanaeth eithriadol i'n cwsmeriaid.
• Mae archebu'n hynod o hawdd o'r dechrau i'r diwedd. Rhowch wybod inni pa amseroedd a dyddiadau sydd eu hangen arnoch, a bydd aelod o staff Cavity gyda chi.
Os hoffech chi archebu, ffoniwch 02921 670619, anfonwch e-bost i bookings@cavitydentalstaff.co.uk.
We are on the lookout for quality dental nurses.
Looking for work?
This is an excellent opportunity for you if you're looking for flexible work and to further your skills, knowledge, experience and qualifications. We're always looking to expand our staff network to fill such positions, so if you are looking for work, signup to become a Cavity dental nurse.