Variety
From high end Private Practices to Prisons, Hospitals and NHS clinics, we work with a wide range of clients and can give you lots of opportunities to expand your skillset in different settings.
Flexibility
Locum work allows you to work around childcare, studying, full time or part time work that fits around your commitments & lifestyle.
Meeting new people
Our team of nurses love going round to different practices making new friends, seeing old ones, and even bumping into colleagues along the way.
Utilise your skills
We get lots of calls for specialist dental nurses where you can utilise your skills such as ortho/sedation/radiography/oral surgery etc.
High rate of pay
All Cavity staff are employed by us (as opposed to self-employed), this means that tax and NI are taken care of, and you also get holiday pay. We have a transparent pay scale based on length of service with regular pay rises – the first after just 3 months!
Travel Expenses
We reimburse for travel costs, train fares and parking monthly and complete P87's for you at the end of the tax year!
Uniform
We provide full uniform, fleeces, travel bags, we fit test and provide all members of the team with FFP3 masks.
Local Manager
You are looked after by a local Area Manager who will take you under their wing.
Wellness days
We care about our team and their wellbeing and so we offer them regular wellness reviews and a paid day off. With the support of our very own fully qualified head of wellbeing only a phone call away.
Love a competition? So do we – always fun prizes up for grabs and it keeps the whole team, far and wide, connected.
We are currently offering an introductory bonus to ALL new staff that join us between NOW and 31st July!! Yes, an extra £100 on your 3rd months' payslip! Recommend a friend and get an extra £50!
Have you ever thought about becoming a locum dental nurse?
Are you looking for a change of scenery?
Bored of office politics?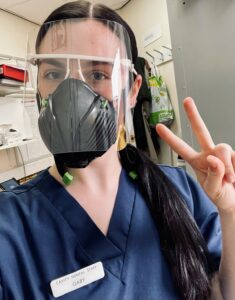 We are always on the lookout for skilled Dental Nurses to join our team and here are 10 reasons why you should:
Variety & flexibility
We value our people and encourage development
Great pay & rewards
Commitment to our staff and clients
Caring Managers
Teamwork
We have Fun but are passionate about what we do
A Company that cares about your wellbeing
Transparency, openness, and integrity
Don't just take our word for it though, see what our nurses have to say! And our testimonials just speak for themselves!