History of the Royal Army Dental Corps (RADC)
During peacetime and operations, uniformed dental teams have provided high-quality, clinical care on base or wherever troops find themselves for 100 years. Small mobile surgeries on operations can offer serving personnel a wide range of treatments from dental check-ups all the way through to fillings, extractions and root canals. But let's go back to when things were a little different, in 1660, an active military base did exist, and you had to have healthy incisors and canine teeth to enable them to open the gunpowder charge. In 1889, there was no dental care provided for the troops, this resulted in 2,000 men being sent home and 5,000 being classed as unfit for the duty due to their dental problems.
How Cavity support the Armed Covenant
Being a Dental Nurse has many bonuses and can be a very rewarding job, locumming is a great career move that you can take with you on the road and work from anywhere!
As a locum nurse, you're supporting Dental Practices who appreciate your support and, in the process, you're in control of your work-life balance. There are many great reasons to become a locum dental nurse with Cavity such as:
Excellent rates of pay
Support from your Area Manager
Bonus schemes
Paid travel and parking
In-house health and wellbeing program
Being a Dental Nurse in the army means you will be earning a competitive salary and non-contributory pension. You will get fully funded Continuing Professional Development (CPD) opportunities. You can progress to Dental Practice Manager, taking on new challenges and making new friends. You will enjoy adventurous training and sport. You can join as a qualified Dental Nurse or train as a Dental Nurse through the Army.
We asked long standing Cavity Area Manager, and ex-MOD Dental Nurse, Fiona about her experience in the field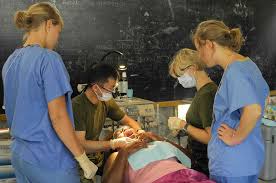 I worked as a civilian Dental Nurse with the Royal Army Dental Corps employed by the MOD out in Germany for 5 years. I was married to a soldier and fortunately our posting was in the same place, this allowed me to work continuously.
I was the Lieutenant Colonels nurse and we got along famously. I worked in Sennelager Dental Centre, within Normandy Barracks – at the time, one of the biggest camps in Germany.
When you are a Dental Nurse, you always must be at least one step ahead of the Dentist, to the point that they don't have to ask for anything. We treated all the UK soldiers who were posted within the garrison, including their wives, children and everyone posted in to do various civilian jobs i.e schoolteachers etc.
We would start work at 8.00am and see our first patient at 8:15, this was called 'sick parade', a soldier with toothache could turn up at this time; we had various slots throughout the day for emergency treatment. Four surgeries running daily – 3 with Dentists and a 4th with a Hygienist. We had an extension built to house a laboratory and 2 technicians moved in, so everything was done on site.
My experience as a civilian was not dissimilar to one of the RADC staff, we all worked and lived amongst each other, I had the best time! The things they did differently were having to do an annual fitness test and regular basic fitness tests. They had to salute officers, call them Ma'am and Sir and do on call duty at weekends. If they were attached to a Field Ambulance, they would get to go on exercise for 2 weeks every year.
I was stationed out there when the first Gulf war began, when troops were deployed to Northern Ireland for 6 month tours, and again when the war in the Balkans began. We had to see every soldier being deployed to declare they were 'dentally fit' to deploy. Any soldier with a toothache or who needed treatment had to be seen and treated. We used to do annual inspections of the other troops in the garrison so invariably you had a full waiting room constantly. We used to run the clinic with, as the term goes, 'military precision'! And I loved every minute of it!"
Requirements and Training
If you are qualified or currently completing your dental nurse training, you will need an active registration with the General Dental Council (GDC). If you are unqualified, you will need 2 GCSE's - Grade C and above including English Language.
As a Locum Nurse for the MOD, you'll play an equally integral part in keeping the soldiers fit and well so that they can do their jobs. You'll care for patients, prepare equipment and sterilise instruments.
If you are interested in taking a career path into dental nursing for the MOD full time, here are some things you'll want to know:
You'll move practice every few years and be a highly skilled soldier. You don't need qualifications when you join, you will be trained and given help to gain a Diploma in Dental Nursing. If you work hard, you could become a Dental Practice Manager, there are plenty of other roles and qualifications available too, plus a pension, sports and adventure training.
Your training will last 14 weeks. You'll start with your initial military training which will teach you how to be a soldier; this will cover everything from fieldcraft to how to handle a rifle.
The fitness test includes:
Mid-Thigh Pull 50kg
Medicine Ball Throw 2.7m
2km run 12m
MSFT (beep test) level 5.8
After that, you will study dental nursing for 15 weeks, the course covers anatomy, physiology, surgery and infection control. You will learn to prepare dental materials, give advice on disease prevention and process x-rays. It all prepares you to sit your National Diploma in Dental Nursing exam, a recognised civilian qualification. If you are already a registered Dental Nurse, you will complete a one day transitioning course.
How to get your foot in the door
Join Cavity as a Locum Dental Nurse, this will help build your confidence, expand your knowledge and skills and set you up for a successful career as a Dental Nurse. Interested? Send over your CV and the local Area Manager will get in contact with you.