Hi, my name is Hayley and I live in Bradford West Yorkshire, I'm in #teamFiona and I have worked with Cavity now for nearly 5 years.
One of the reasons I love locum work is the flexibility it brings to enable me to continue with one of my other passions in life - Mercy Ships. Mercy Ships is a Christian charity, and it is the largest floating Hospital in the world that's been running for over 40 years, bringing hope and healing to the worlds forgotten poor in West Africa.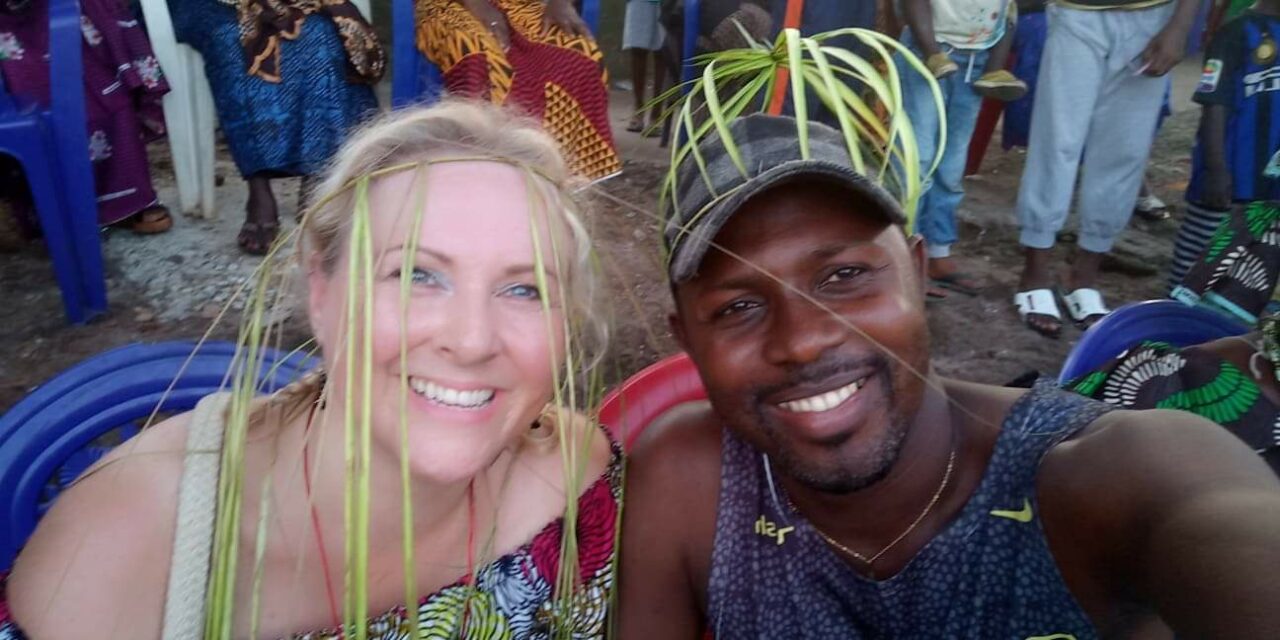 Treatment it provides-
Maxillo Facial
Plastic surgery
Orthopaedics
Gynaecology
Ophthalmology
Dental
Training and Mentoring local Doctors
Agriculture and much, much more
The Team onboard The Africa Mercy is a Global Community of Volunteers, some short term, some long term.
I have put together a diary of all that I've witnessed and experience since embarking on this journey.
Feb 2018
After much prayer, thought, fundraising and vaccines, I set off to serve on the Africa Mercy for 3 weeks in Cameroon West Africa. I didn't know what to expect when I got there, and this was the first time I had travelled alone before. Unbeknown to me my life was about to change. Being transported to the other side of the world, met at the airport, and taken to the ship was all very surreal. I was inducted and fed onboard and taken to my cabin which consists of one bathroom and 2 bunk beds; I shared with three other women from other departments and countries. So, I went from knowing no one to having friends from all over the world in a short space of time.
The Mercy Ships Dental Team Consists of:
4 Dentists
1 Hygienist
5 Dental Nurses
Supervisor
Interpreters
Receptionists
OHI Coordinators
Security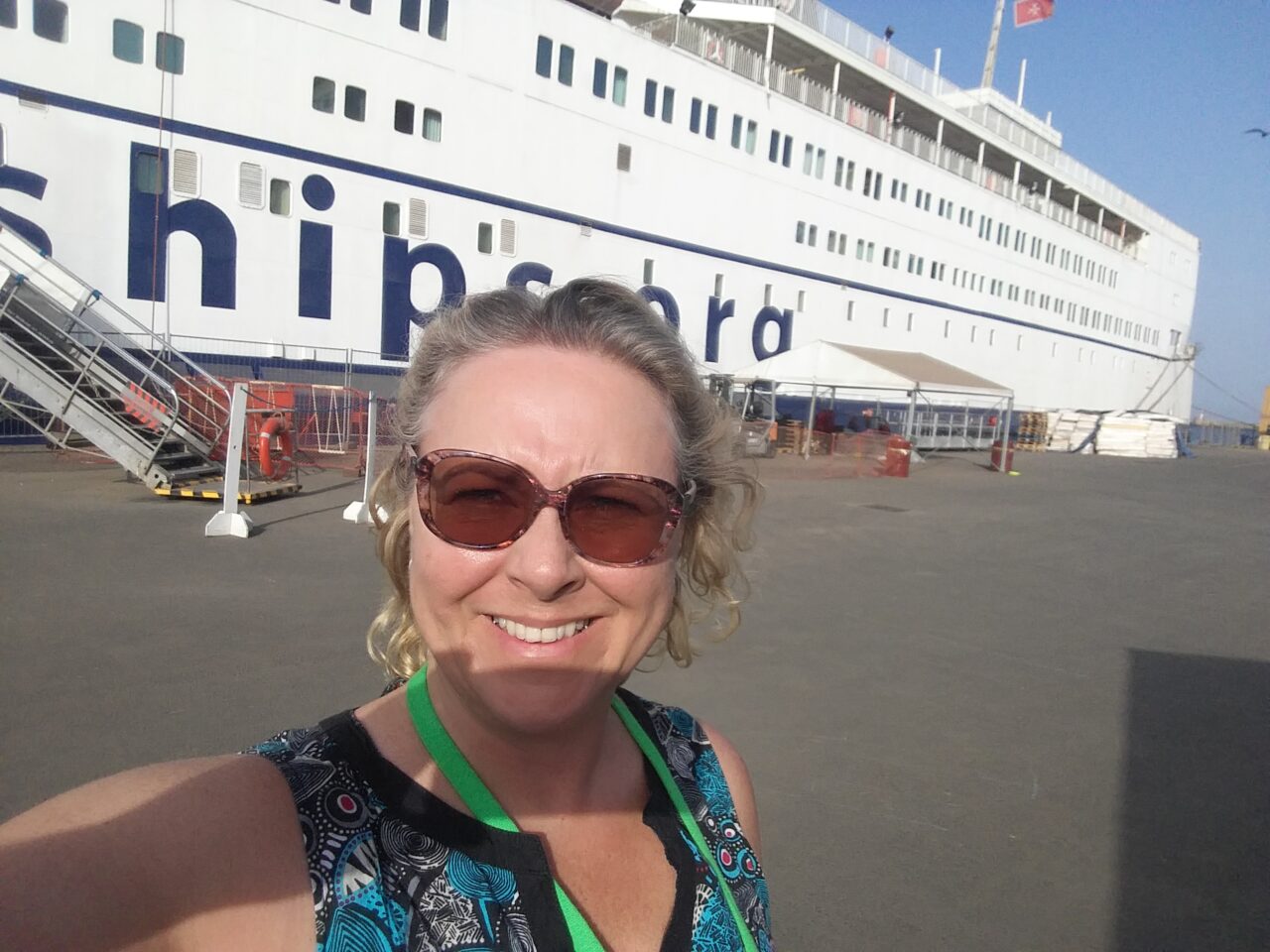 A typical day consists of breakfast onboard then we load up the Jeeps with our everyday essentials and drive through the crazy rush hour traffic to the clinic. Patients are triaged twice a week and sent to the clinic accordingly for treatment. The day is started with prayer and worship in true African style.
Patients are booked in and complete a Medical and BP is recorded. OHI in the waiting room, treatment carried out and post op given. This is a very busy clinic and not for the faint hearted. It requires a lot of stamina and hard graft. Mostly surgical extractions, extractions, and some fillings. The Dentists have blisters on their hands, and we treat on average 100 patients a day! These patients are so grateful after suffering so long with dental ill health. Seeing what a difference we can make to someone is wonderful. When in the West we just take it all for granted. Most Dentists volunteer for 2 weeks and Nurses 3 weeks.  When we aren't working, we can socialise on the ship and explore the country and culture.
August 2019
We have now had one full week out at the Dental Clinic. Last Monday, we unloaded the container into the lorry (truck) and it was then taken to the university in Conakry. This is where we will be for the next 10 months; the university building has been recently renovated by the advance team and it looks amazing. We've been introduced to the day crew who will be working alongside us and translating for us and next week we will train the new crew and finish off the setting up of the clinic, ready for the first patient on Monday 3rd September.
2019 - 2020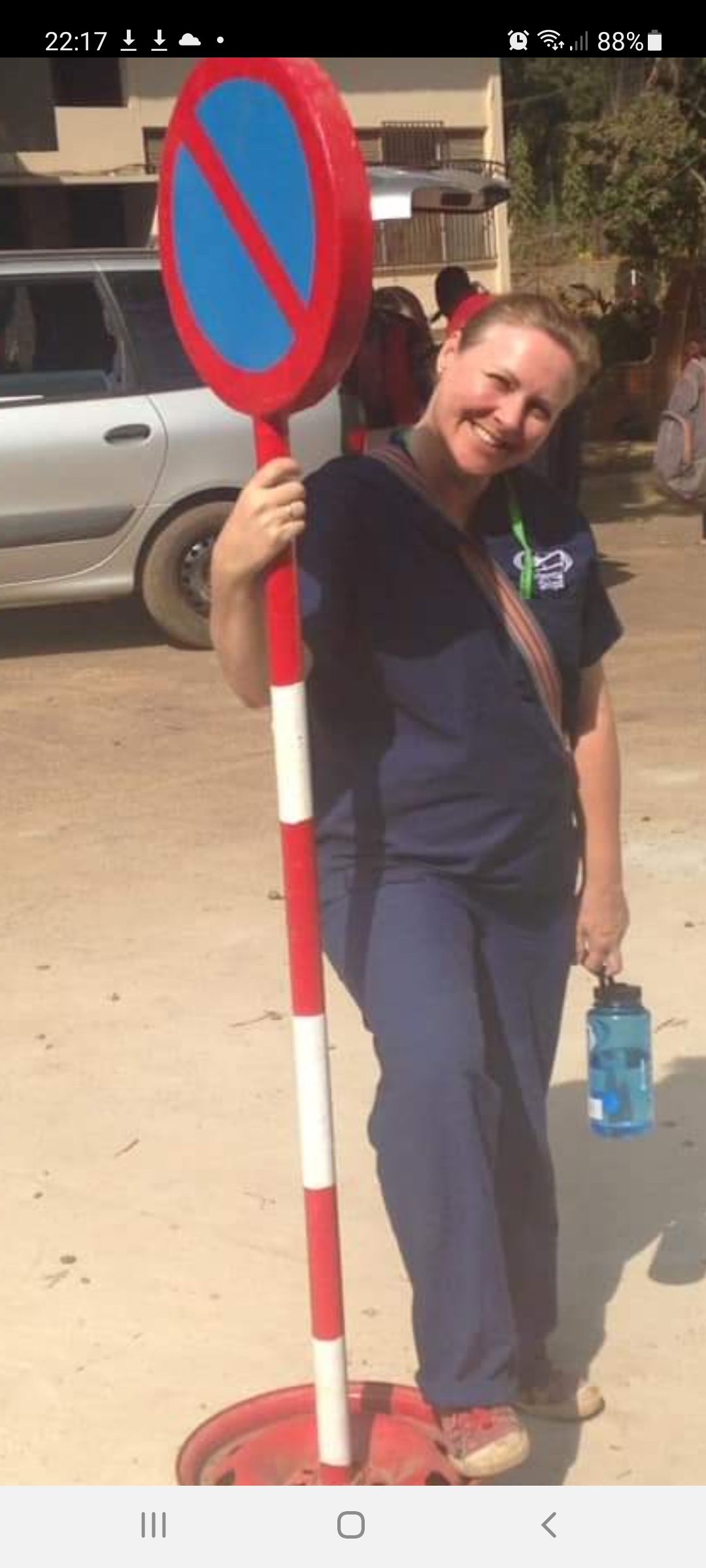 After Cameroon the pull for Africa wouldn't leave me. In 2019, I served in Guinea for 4 weeks and in 2020 I served in Senegal for 4 months. Unfortunately, after 6 weeks we went into a full lockdown and my heart broke that we had to close the clinic and leave our patients behind, but we had to follow the Captains orders. I decided to stay full time and sailed to Europe and worked on board the Galley for my remaining 10 weeks. Many countries in Africa are still developing and people live in adject poverty, and we can make a difference by helping one at a time.
The UK is my home, but Africa has my heart and I know that the more I go, the more people I can help is what I want to do, and so that is exactly what I intend to do.
Mercy Ships also employs local people to help in departments interpreting etc. In 2019 in Guinea, I met and fell in love with Pierre, He worked in Decon and our eyes literally met across the dirty instruments trolley - so romantic!!! I have since visited him twice and been immersed in his world. What's next? I have been accepted to return and will serve when I can. Pierre and I are planning to meet again after a long 18 months apart.
This has only been a glimpse of my adventures and it really is such an experience.
If this has inspired you, check out mercyships.org - watch inspirational videos on YouTube.
Doing this work has completely changed my outlook on life, I appreciate even the small things I used to take for granted.
Thanks for reading
Love Hayley xx
God is good all the time and all the time God is good.