Dental Nurse Roles in the UK
Find your next dental job with Cavity!
Are you a locum dental nurse struggling to find flexible work?

By joining us, we will ensure that we work with you to develop your career and provide suitable locum opportunities.
No matter your location or requirements, you can rely on us to have a locum dental nurse role to suit you.
We have dental nurse roles across the UK!
Dental Nurse Roles – Available across the UK!
Our team is spread across the country, meaning we're finely placed to offer dental nurses in the UK the latest locum dental nurse job roles. Even better, we have roles to suit your skills and fit your lifestyle.
Whether you're looking for trainee dental nurse roles or you want to become a dental receptionist, we have the locum position for you!
We're a committed bunch here at Cavity Dental Staff. We pride ourselves on the personalised service we provide to all clients and dental staff.
We not only hire top quality staff to join our agency, but support those dental practices who require staff.
Being a dental nurse recruitment agency is a very rewarding job for two reasons;
We support qualified dental nurses to do what they love to do through our many dental nurse jobs.
We solve staffing issues for dental practices and ensure they continue to provide a high level of care for their patients.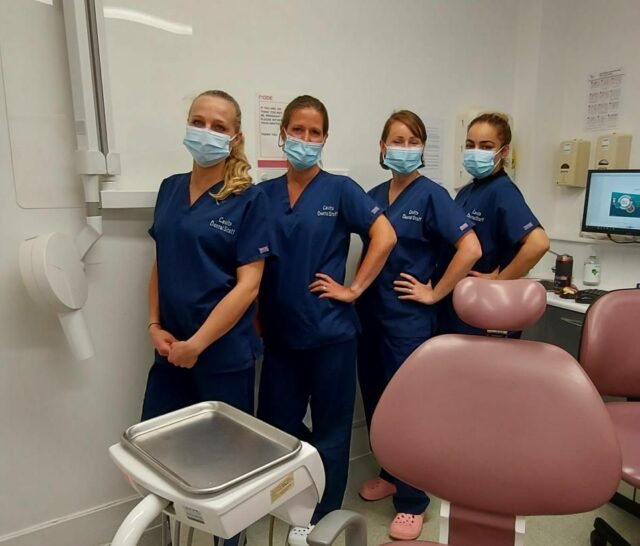 What you can expect when joining our team.
We are one of the biggest dental agencies in the UK, so you can expect to be kept busy!
Most of the time you will be booked up weeks ahead, and on the odd occasion, you may be called out on the day to cover a job. You know better than anyone the nature of dentistry!
The types of locum dental staff who enjoy working with us most is those who love a change of scenery. Locuming allows you to take on an array of different jobs on a regular basis. If that's what you're looking for, then come and join us!
The type of staff we're looking for?
Our staff network covers NHS/private practices, NHS hospital trusts, local NHS trusts, prisons, specialist practices, community clinics and the military.
If you have a special interest in dentistry or hold a specialist qualification, then we can book you into a work placement according to your skillset.
We are on the lookout for quality dental nurses.
Looking for work?
This is an excellent opportunity for you if you're looking for flexible work and to further your skills, knowledge, experience and qualifications. We're always looking to expand our staff network to fill such positions, so if you are looking for work, signup to become a Cavity dental nurse.