Dental Receptionist Jobs
Your Dental Locum Staff Recruitment Solution
Are you looking for an experienced dental receptionist for your dental practice? Here at Cavity Dental Staff, we provide many talented locum staff to dental practices across the UK.
We respect that every practice requires an experienced and effective dental team to create a profitable and professional business. Having an experienced receptionist as the face of your practice is pivotal in this success.
Over the years, we have worked with private and NHS practices to provide qualified dental staff. We've even provided cover for specialist referral practices too!
Our team of dental receptionists
We're blessed with a team of experienced locum dental receptionists who are comfortable with all reception duties and most software systems. Because of this, they're very comfortable with joining a practice to improve the day-to-day experience for dentists and customers.
Many of our clients have been impressed with how easily our receptionists settle in. They can literally walk in, sit at the desk, start taking calls, file and run your reception desk professionally right away. This is what attracts dental practices to utilise our experienced locum staff. From your dental nurse receptionist job description, we'll find the right individual to match it.
Our locum receptionists are experienced in the following software:
Exact Software of Excellence
Kodak R4
Orthotrak
Paragon
They're also experienced with other software too. If there's a particular software you use, then let us know, we'll have the a receptionist for you.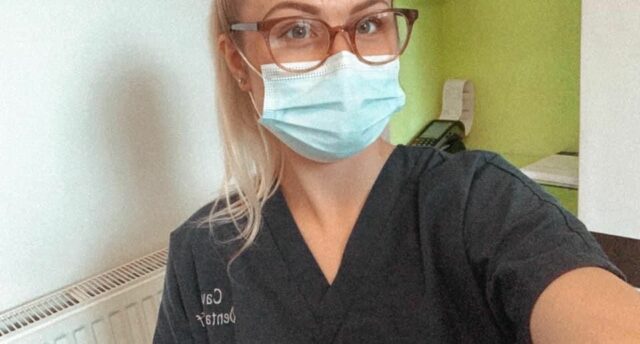 Are you looking for dental receptionist jobs?
Although we're a dental nurse agency for dental practices, we're also always looking for new talent to join our network of dental nursing professionals.
If you're a dental clerk, assistant or receptionist who is comfortable with arranging appointments, greeting patients and managing the day-to-day operations of a dental practice, then we want to hear from you.
We can offer you temp and full time dental receptionist jobs on our job board.
As a dental practice receptionist, you'll become a key member of our dental reception whirlpool. You'll be available to dental practices in your local area (or where you are willing to travel to).
This is another benefit to becoming a dental receptionist with Cavity Dental Staff – you can work locally or relocate if you wish to.
Working with us will provide you with regular work, experience, personal development and great opportunities.
Part or full time dental receptionist, we want to hear from you!
If you would like to join the receptionist talent pool, please request to join today!
If you make a booking between 9am-5pm Monday-Friday, we will respond within an hour (excluding bank holidays).
If you would like to find out more then please get in touch with our team on 0118 9668291.
Booking a staff member couldn't be easier. All we need from you is your name, along with further information regarding the dental staff member you require, the time they're needed and any other special requirements.
Are you looking for dental receptionist jobs in London? Get in touch!
We are on the lookout for quality dental nurses.
Looking for work?
This is an excellent opportunity for you if you're looking for flexible work and to further your skills, knowledge, experience and qualifications. We're always looking to expand our staff network to fill such positions, so if you are looking for work, signup to become a Cavity dental nurse.